Co-sponsored by Fondren Library's Accessibility Committee and the User Experience Office and Rice University's Disability Support Services
Speakers:
Lewis Maher
A native of Dallas Texas, Lewis graduated from Spring Hill College with a B.S. in physics and the University of Texas at Dallas with a Ph.D. in physics. He held space science post-doctoral appointments at Rice University and at RadioPhysics Inc. in Boulder Colorado before joining Exxon Production Research (EPR) to work on a variety of seismic data processing projects involving data interpolation, seismic migration, velocity analysis, and tomography. He retired from Exxon in the spring of 2015. Louis has served as an ExxonMobil Loaned Executive to the United Way of Greater Houston, as president of the National Federation of the Blind of Texas (NFBTX) Houston Chapter, as the treasurer of the NFBTX Houston Chapter, Secretary of the National Federation of the Blind of Texas, and as secretary of the Houston Commission On Disabilities. His main computer interests are improving accessibility for the blind to graphical user interfaces, graphically displayed data, and to mathematically-based books and journals.
Claudia Ziegler Acemyan
As a human factors and human-computer interaction researcher, Dr. Acemyan's research focuses on voting system usability, or the study of human behavior and performance while using a particular voting system or product. By understanding issues related to the difficulty of using a system, the types of errors people make while interacting with it, how people think the system works and what they should do with it, and the best methods to use during system development and testing, then developers are better able to avoid and eliminate problems in the service of user-centered designs.
Hang-Out Student Group
The Hangout is an outdoor learning space at Rice University. Located directly outside Fondren Library's new reading room, the site sits at a bottleneck between the south colleges and the academic quad. By reconsidering the habits of indoor learning and preserving unique site conditions, we sought to create an environment to catalyze new forms of learning. In our initial visits to the site, we were fascinated by the tree canopy and found that using hammocks – which float of the ground – could celebrate the natural site's sense of enclosure. Our design is a field of poles that is connected by a network of hammocks. The poles have two types of connections, allowing hammocks to pivot into a total of 729 configurations. This degree of freedom dissolves hard ownership of the space and accommodates both individuals and groups. The student manipulation of the layout will yield new and unexpected relationships between hammocks, providing a refreshing new take on outdoor learning and revitalizing an underused space on campus.
Andrew Bertics is a junior architecture student from Wiess College. He was part of The Hangout design team.
Ethan Chan is a junior from Brown College, double majoring in art and architecture. He was part of The Hangout design team.
Kajal Patel is a senior architecture student from Hanszen College. She is currently serving as president of the Architecture Society at Rice and helped organize the Mini-Charrette competition that led to The Hangout.
Other members of the interdisciplinary team are:
Eric Hsu – senior architecture/art history student from Baker College
Yoseph Maguire – senior electrical engineer student from Wiess College
Mitch Mackowiak – senior architecture/art history student from Lovett College
Toshiki Niimi – senior architecture/German studies student from Hanszen College
Geneva Vest – senior sociology student from Hanzen College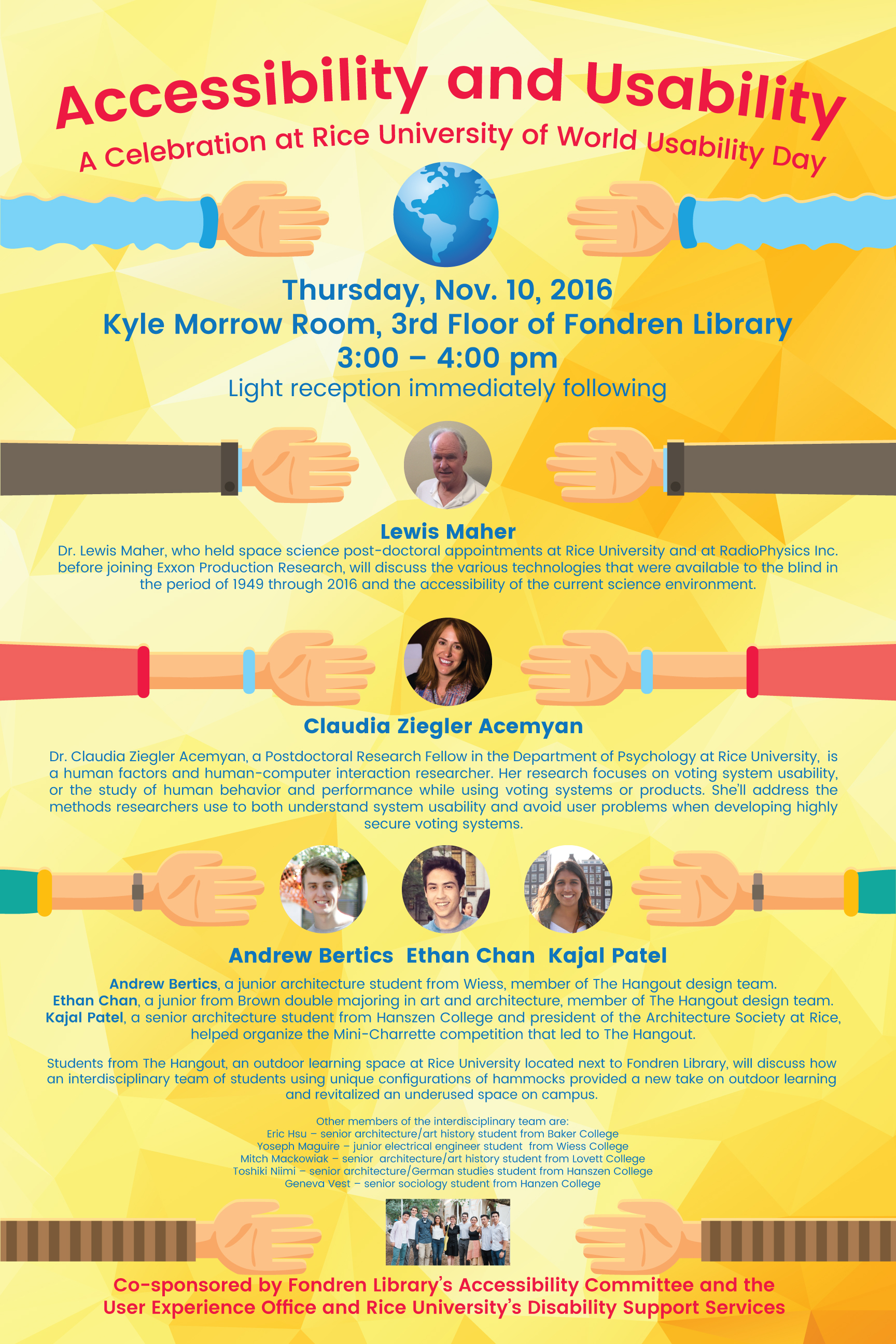 Date and Time:
Thursday, November 10, 2016 -

3:00pm

to

4:00pm
Location:
Kyle Morrow Room, Fondren Library 3rd Floor
Eligibility:
Public
Friends of Fondren Members
Rice Faculty
Rice Staff
Rice Students
Contact Information:
Linda Spiro
lindas@rice.edu