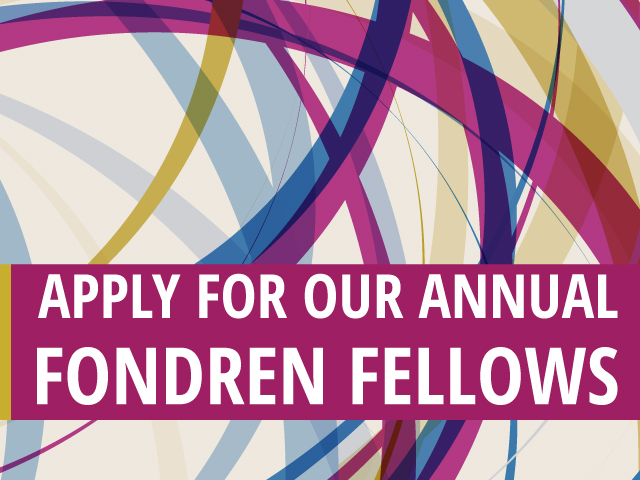 Fondren Fellows Program
The Fondren Fellows program funds Rice undergraduate or graduate students to conduct research projects sponsored by Fondren Library that will benefit the library and the scholarly community. For example, projects may involve working with archival collections, developing digital projects, or making recommendations for library spaces or services based on analyzing data. A Fondren staff member will serve as a mentor for each project.
Graduate student projects will be designed at an appropriate level of complexity and responsibility, and there may be opportunities for graduate students to help mentor undergraduate fellows.
Benefits
The Fondren Fellows program offers the following benefits to students:
Receive a competitive wage. Fellows will receive $15/ hour, with a cap of $3000 per fellowship.

Create a meaningful research project in collaboration with professionals

Hone research and communication skills

Work flexible hours
Applying for a Fellowship
Applicants must be current graduate or undergraduate students in good academic standing at the time of the fellowship. To apply, submit the following to lspiro@rice.edu:
a resume or CV that includes your name, email address, telephone number and expected graduation date.

a cover letter. The cover letter should specify which project(s) you would like to participate in, what qualifications you bring to the project(s), and what you would like to get out of the fellowship.

an unofficial transcript.

a letter of recommendation from a faculty member.
Students will be expected to interview with the prospective mentor and the Fondren Fellows coordinator. Work study students are encouraged to apply.
Applications for the Fondren Fellows program are due by Monday, November 12, 2018 at noon.
Contact lspiro@rice.edu with any questions.
Expectations
Once selected, Fondren Fellows are expected to:
submit a research plan

participate in regular meetings with their mentor(s) and, as appropriate, with other Fellows

provide reports on their progress in meeting the project goals

present their project at a public forum, such as the Rice Undergraduate Research Symposium (RURS) or a Fondren Town Hall Meeting

acknowledge Fondren Library in any publications or presentations resulting from the fellowship
The Fondren Fellows program is funded through the generous support of Trish Brice. It is inspired by a similar program at Vanderbilt, as well as by student research programs at Rice's Center for Civic Leadership and Rice's Humanities Research Center.
Learn more about the program by reading Jeff Falk's "Fondren Fellows Program showcases students' research prowess," Rice News (April 17, 2017).
Spring/ Summer 2019 Fellowship Opportunities
For the spring of 2019 or summer of 2019, Fondren offers four different projects that students can apply to work on. In the application, indicate which project(s) you would like to be considered for.
Run the World: Houston Women Community Activists (Summer 2019)
Houston has a long line of community activists from the area; this project would examine women who took up the banner of community service in Houston.

- The Billie Carr political papers, MS 373, document Carr's long career as a political organizer for the Democratic Party in Harris County. Beginning in the 1950's Carr fought for civil rights, protested the Vietnam War and fought for women's rights in the 1970s, and for gay rights in the 1980s. She helped organize the 1966 campaign leading to the election of Barbara Jordan, the first African-American woman elected to the Texas Senate, and was elected to the Democratic National Committee in 1972.

- The Judge Clarease Yates papers, MS 123, document Clarease Yate's commitment to civic engagement as a judge with the United States Immigration and Nationalization Service in Houston, Texas, as well as board member of the Sickle Cell Association of the Gulf Coast, member of the National Coalition of 100 Black Women, the NAACP, and board member of the Houston Symphony.

- The Glenda Joe / Houston Asian American community advocacy and festival arts records, MS 667, document the activities of Glenda Joe with the Houston Asian American Festival Association, as well as with community advocacy issues concerning the Asian American communities in Houston.

Scans of the materials would be used to create an online exhibit using the Omeka platform detailing the history of these women and their impact on the Houston community. Each of these women also completed an oral history which resides in the Digital Scholarship Archive and can be linked to the exhibit.

Library Learning for Inquiry (Spring 2019)
Multiple Rice University departments are currently revising their curricula with guidance and grants from the university's Quality Enhancement Plan on Inquiry-Based Learning (IBL). This presents the library with an opportunity to both inform departmental faculty on ways to integrate information literacy into curricula, and to target our in-person and online instructional efforts to support IBL in departmental contexts. Typically, librarians communicate about instruction with departmental faculty only while planning individual library sessions. The Fondren Fellow will work to cross the communication barriers between faculty and librarians by conducting interviews, analyzing syllabi and other strategies. Using the fellow's analysis, the library will advance its strategy for teaching and learning and help empower students to learn through inquiry.

Revealing History: Camp Logan in Memorial Park (Summer 2019)
The Woodson Research Center at Fondren Library has archival materials and objects related to Camp Logan, a World War I training camp existing from 1917-1919 on the land that is now Memorial Park. Some of these materials have been digitized and are accessible to the public in the Institutional Repository https://scholarship.rice.edu/handle/1911/102511. Faculty and students from the Anthropology Department have also been investigating Camp Logan archaeologically since 2015 to learn more about the history and preserve remnants of Camp Logan.


If selected, a Fondren Fellow will conduct research into the broader history of Camp Logan, the Houston Riot, and African American military history at the site. Using primary resources housed in Woodson Research Center, create a means for the public to engage with the historical site within Memorial Park. This could be via a mobile app, an interactive map utilizing Fondren's GIS services, or other formats. This project will likely require a multi-phase approach.


A Time of Protest at Rice (Spring or Summer 2019)
Focusing on our university archives surrounding the tumultuous years of 1969-1970, I would like to help a student create an Omeka exhibit charting the "Masterson Crisis" and a cancelled Abbie Hoffman event that led to students occupying Allen Center. The student will have a chance to analyze Rice's unique protests that were in sympathy to, but also ran counter to the Vietnam protests held at other universities across the country.
For more information about these fellowship opportunities, including a list of desired skills, please click here.
---
2018 Fondren Fellows
Jane Evans, "Harvey Memories Project"

Jennifer Lee, "Developing a Marketing Plan for Library Publishing Services"

Mengjia Liu, "Motion Tracking Small Organisms"

Brook Lu, "Evaluating Engineering Databases: A Pilot Project"
---
2017 Fondren Fellows
Nathanael Assefa
Undergraduate chemical engineering and mathematics major: "Promoting Archival Collections via Wikipedia"
Eslam El-Shahat
Graduate student in ecology and evolutionary biology: "Developing a Plan for Research Data Management Graduate Training"
Edward Valentin
Graduate student in history: "Mapping Civil War Narratives" (continuation of 2016 project)
Corinne Wilkinson
Undergraduate history and policy studies major: "Jesse H. Jones Exhibit"
Zihua (Pearly) Ye
Undergraduate psychology major: "Conducting A Faculty-centered Information Needs and Resource Assessment"
---
2016 Fondren Fellows
To learn more about the Fondren Fellows' work, please see the Fondren Fellows collection in the Rice Digital Scholarship Archive.
MARCEL LAFLAMME, AUTHOR RIGHTS
Graduate student in Anthropology
Mentor: Shannon Kipphut-Smith
This project aims to understand more about how tenure-stream faculty at Rice think about and act on their author rights in connection with their published work. Many faculty want to make their scholarly and professional output more accessible, whether by uploading it to Rice's institutional depository or by posting it to an academic social network. However, faculty members may not always have a clear understanding of how and where they are permitted to share their work under the terms of the author agreements they have signed. This project uses interviews and document analysis to piece together the values, beliefs, and actually existing practices of faculty members, using participants' most recent publication as a case study. The results will be used to improve the resources and services that Fondren offers to faculty, and they also stand to fill a gap in the scholarly communication research literature. Fondren Fellows Showcase "Author Rights" by Marcel LaFlamme
IAN LOWRIE, DEVELOPING A CULTURE OF CARE FOR RESEARCH DATA AT RICE
Graduate student in Anthropology
Mentor: Lisa Spiro
Data management has become a more pressing issue for researchers lately, as funding agencies are increasingly requiring researchers to present rationalized data management plans and to ensure access to their research data well after the completion of their funded research. However, institutional support for research data management is still a relatively new field, without established best practices. This project uses interviews with Rice faculty and data librarians at peer institutions to develop insight into the research data management environment at Rice, and develop comprehensive recommendations for how Fondren might best support ongoing efforts to develop policies and infrastructure to support research data management by both faculty and student researchers. It suggests that the existing Rice Digital Scholarship Archive could be profitably used to facilitate sharing and archiving of research data, and identifies a number of key areas where Fondren might assist departments in educating researchers about the importance and technical aspects of rationalized research data management
NEHA POTLAPALLI, FITDESKS
Sophomore, Will Rice College
Mentor: Sue Garrison and Melinda Flannery
During the Fall 2016 semester, Fondren Library will be reviewing alternative seating arrangements for possible student use. This can include bike desks, under desk ellipticals, treadmill desks and more! Alternative desks can improve students' cognitive function while studying and keep them active. With increasing research showing the dangers of extended sitting, alternative seating arrangements at Fondren can improve student health and grades. Student input is essential to this project to ensure Rice University students will positively benefit from this possible change. Fondren Fellows Showcase "FitDesks" by Neha Potlapalli
CHRISTINA REGELSKI, MAPPING CIVIL WAR NARRATIVES
Graduate student in History
Mentors: Amanda Focke and Rebecca Russell
We designed our project, entitled "Mapping Civil War Narratives," to make the Woodson Research Center's rich Civil War-related collections more accessible to researchers. I will use ArcGIS to map where people wrote these documents and what locations they discussed in these documents. This interactive "bird's-eye view" map will give these collections a new dynamism. Researchers will be able to see the multiple geographies of these collections and the interactions between them. A researcher, for example, could follow the particular route of a soldier in the Army of the Potomac, trace the exchange of letters between Confederate officers and Richmond, or use filters to see where men and women discussed race, politics, violence, or disease. This semester, I will focus first on mapping soldiers' letters to their families in order to build a framework and methodology for the future expansion of this project to all of the Woodson's Civil War-related collections. Additionally, I will use Esri Story Maps to highlight one particular collection in order to further show the interpretive possibilities of the Woodson's collections.