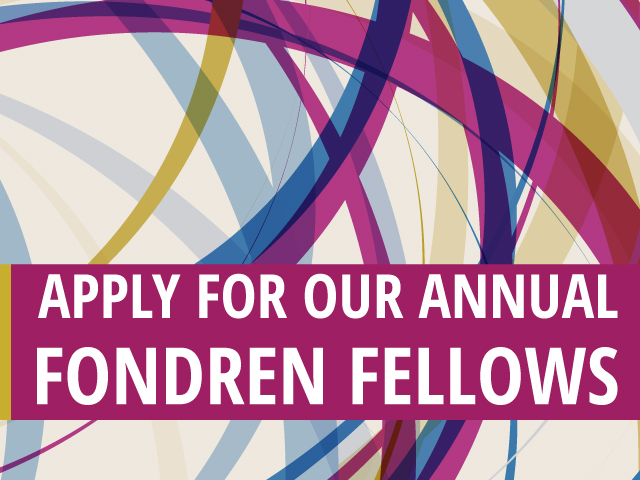 Fondren Fellows Program
The Fondren Fellows program funds Rice undergraduate or graduate students to conduct research projects sponsored by Fondren Library that will benefit the library and the scholarly community. For example, projects may involve working with archival collections, developing digital projects, or making recommendations for library spaces or services based on analyzing data. Rice faculty members or Fondren staff will serve as the mentors for each project.
Graduate student projects will be designed at an appropriate level of complexity and responsibility, and there may be opportunities for graduate students to help mentor undergraduate fellows.
Fall 2019-Spring 2020 Fondren Fellows Project Opportunities
A Curated Resource for Open Science: Data Sharing, Publication, and Collaboration
Visualizing the Red Book of Houston
Natural History of Harris Gully Natural area
The Centennial of the Vote: Houston Community Activists exhibit
El Anatsui, Okwui Enwezor, and the Emergence of Global Art 1989 – 2019
Mapping the Reservation: Houston's Red-Light District, 1908-1917
Cataloging Archives of the Impossible Collections
Toward a more environmentally sustainable vendor/publisher packaging global practice.
Please see this PDF for more information about each project.
Benefits to Fellows
The Fondren Fellows program offers the following benefits to students:
Receive a competitive wage. Fellows will receive $15/ hour, with a cap of $3000 per fellowship.

Create a meaningful research project in collaboration with experts

Hone research and communication skills

Work flexible hours
Applying for a Fellowship
Applicants must be current graduate or undergraduate students in good academic standing at the time of the fellowship. To apply, submit the following to lspiro@rice.edu:
a resume or CV that includes your name, email address, telephone number and expected graduation date.

a cover letter. The cover letter should specify which project(s) you would like to participate in, what qualifications you bring to the project(s), and what you would like to get out of the fellowship.

an unofficial transcript.

a letter of recommendation from a faculty member.
Students will be expected to interview with the prospective mentor and the Fondren Fellows coordinator. Work study students are encouraged to apply.
Applications for the Fondren Fellows program will be due by noon on September 11, 2019 (note the new deadline).
Contact lspiro@rice.edu with any questions.
Expectations
Once selected, Fondren Fellows are expected to:
submit a research plan

participate in regular meetings with their mentor(s) and, as appropriate, with other Fellows

provide reports on their progress in meeting the project goals

present their project at a public forum, such as the Rice Undergraduate Research Symposium (RURS) or a Fondren Town Hall Meeting

acknowledge Fondren Library in any publications or presentations resulting from the fellowship
Background Information
Fondren Library gratefully acknowledges the John "Terry" Maltsberger III estate for creating an endowment to support expanding the Fondren Fellows program. Please see Katharine Shilcutt's "Surprise for Fondren Library: $2 million endowment to fund experiential research" Rice News (November 5, 2018).
Between 2016 and 2019, the Fondren Fellows program was funded through the generous support of Trish Brice. It is inspired by a similar program at Vanderbilt, as well as by student research programs at Rice's Center for Civic Leadership and Rice's Humanities Research Center.
Learn more about the program by reading Jeff Falk's "Fondren Fellows Program showcases students' research prowess," Rice News (April 17, 2017).
Summer 2019 Fondren Fellows Projects
For the summer of 2019, Fondren is supporting two Fondren Fellows projects:
"Developing a Sustainability and Resilience Plan for Fondren Library": According to the American Library Association, "libraries that demonstrate leadership in making sustainable decisions that positively address climate change, respect and use natural resources, and create healthy indoor and outdoor environments will stabilize and reduce their long-term energy costs, help build more sustainable communities, and thereby increase community support for the library." In support of Rice's overall commitment to environmental sustainability, Fondren Library seeks to become more sustainable, such as by reducing resource consumption, facilitating the sharing and re-use of materials, creating collections that reflect sustainability concerns, fostering resilience, and incorporating environmental concerns into potential renovation plans. The Fondren Fellow would lay the groundwork for developing the library's sustainability plan by consulting with stakeholders, identifying key elements of the plan, researching how similar organizations approach sustainability, and preparing a brief report and presentation to share findings. It is envisioned that this will be a multi-phase project, likely involving multiple Fellows.

Fellows: Svetlana Borodina and Ashley Fitzpatrick
Mentor: Lisa Spiro


"Cataloging paranormal studies collections": For "Cataloging paranormal studies collections," the Fellow would assist the staff of the Woodson Research Center with the processing and description of the recently acquired archival materials relating to new religious movements and the paranormal. The archive is the focus of the Archives of the Impossible seminar presently taught by Prof. Jeffrey Kripal of the Religion department.

Fellows: Thomas Millary and Christopher Senn
Mentors: Lee Pecht and Anna Shparberg
For more information about these fellowship opportunities, including a list of desired skills, please click here.
---