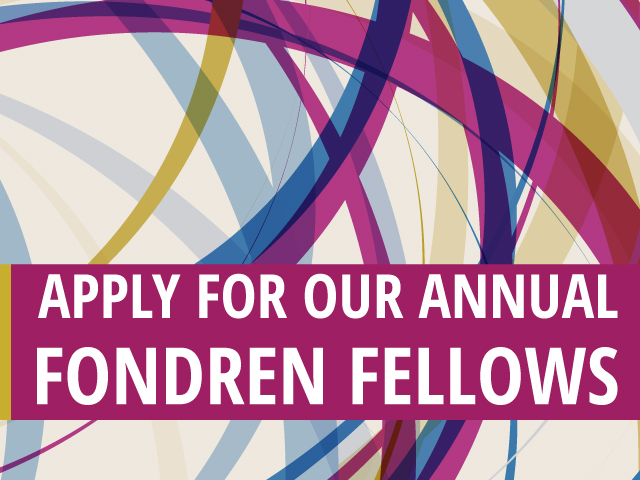 Fondren Fellows Program
The Fondren Fellows program funds Rice undergraduate or graduate students to conduct research projects sponsored by Fondren Library that will benefit the library and the scholarly community. For example, projects may involve working with archival collections, developing digital projects, or making recommendations for library spaces or services based on analyzing data. Rice faculty members or Fondren staff will serve as the mentors for each project.
Graduate student projects will be designed at an appropriate level of complexity and responsibility, and there may be opportunities for graduate students to help mentor undergraduate fellows.
Fall 2019-Spring 2020 Fondren Fellows Projects
A Curated Resource for Open Science: Data Sharing, Publication, and Collaboration:
Fellow: Yanzhou Pan
Mentor: Fred Oswald (Psychology)
Library Liaison: Shannon Kipphut-Smith (Digital Scholarship Services)
Visualizing the Red Book of Houston
Fellows: Ryan Chow and Rachael Pasierowska
Mentors: Norie Guthrie, Amanda Focke and Melissa Kean (Woodson Research Center) and
Fay Yarbrough
Natural History of Harris Gully Natural area
Fellow: Stephanie Scoville
Mentor: Cassidy Johnson (BioSciences) and Richard Johnson (Admin. Ctr for Sustainability & Energy Management)
Library Liaisons: Melissa Kean and Traci Patterson (Woodson Research Center)
El Anatsui, Okwui Enwezor, and the Emergence of Global Art 1989 – 2019
Fellow: Leah Olivio
Mentors: Amanda Focke (Woodson Research Center); Carroll Blue (Visiting Scholar); Leo Costello and Maria Fabiola López-Durán (Art History); Kerry Ward
(History and Museum Studies); Jet Prendeville (Art & Architecture Librarian)
Mapping the Reservation: Houston's Red-Light District, 1908-1917
Fellow: Branden Montgomery
Mentor: Brian Riedel (Study of Women Gender & Sexuality)
Library Liaison: Kim Ricker (GIS/Data Center)
Cataloging Archives of the Impossible Collections
Fellow: Stanislav Panin
Mentors: Amanda Focke (Woodson Research Center) & Anna Shparberg (Humanities Librarian)
Toward a more environmentally sustainable vendor/publisher packaging global practice
Fellow: James Sanders
Mentor: Michael Vessels (Library Receiving Coordinator)
Faculty-Student Research Collaboration in Digital History: Refining Between Oceans and Continents
Fellow: Miles Powell Olson
Mentor: Daniel Domingues da Silva (History)
Library Liaison: Lisa Spiro (Digital Scholarship Services)
Developing a Sustainability and Resilience Plan for Fondren Library
Fellow: Ashley Fitzpatrick
Affiliated researcher: Svetlana Borodina
Mentor: Lisa Spiro (Digital Scholarship Services)
A Time of Protest at Rice: Part 2
Fellow: Anna Ta
Mentor: Norie Guthrie (Woodson Research Center);
Benefits to Fellows
The Fondren Fellows program offers the following benefits to students:
Receive a competitive wage. Fellows will receive $15/ hour, with a cap of $3000 per fellowship.

Create a meaningful research project in collaboration with experts

Hone research and communication skills

Work flexible hours
Expectations
Fondren Fellows are expected to:
submit a research plan

participate in regular meetings with their mentor(s) and, as appropriate, with other Fellows

provide reports on their progress in meeting the project goals

present their project at a public forum, such as the Rice Undergraduate Research Symposium (RURS) or a Fondren Town Hall Meeting

acknowledge Fondren Library in any publications or presentations resulting from the fellowship
Background Information
Fondren Library gratefully acknowledges the John "Terry" Maltsberger III estate for its support of the Fondren Fellows program. Please see Katharine Shilcutt's "Surprise for Fondren Library: $2 million endowment to fund experiential research" Rice News (November 5, 2018).
Between 2016 and 2019, the Fondren Fellows program was funded through the generous support of Trish Brice. It is inspired by a similar program at Vanderbilt, as well as by student research programs at Rice's Center for Civic Leadership and Rice's Humanities Research Center.
Learn more about the program by reading Jeff Falk's "Fondren Fellows Program showcases students' research prowess," Rice News (April 17, 2017).
---