This guide will walk you through the computer and projection facilities in the Kyle Morrow Room in Fondren Library.
NOTE: If you plan to have food and/or drink with your event, please email susan.garrison@rice.edu for guidelines on acceptable food given Fondren Library's food and drink policy.
The following equipment is available for use in the Kyle Morrow Room:
-Windows computer that can be logged into using your NetID and password. If you choose not to use your own NetID, you can use the generic login which is listed on the login window.
-Overhead projection
-Hookup of personal laptop computer - only supports VGA connections, not DVI
-Blu-ray/DVD/VCR combo
-microphone (in the drawer in podium)
Image 1 - Technology Cabinet (PC & Blu-ray/DVD/VCR located inside)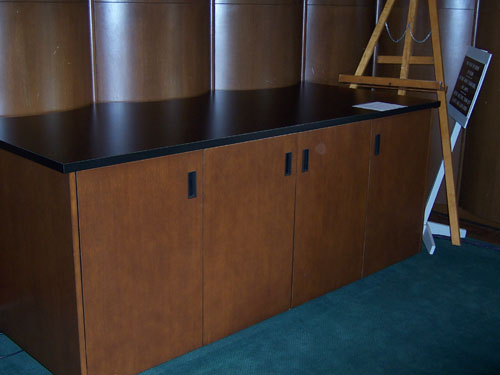 Image 2 - Available Equipment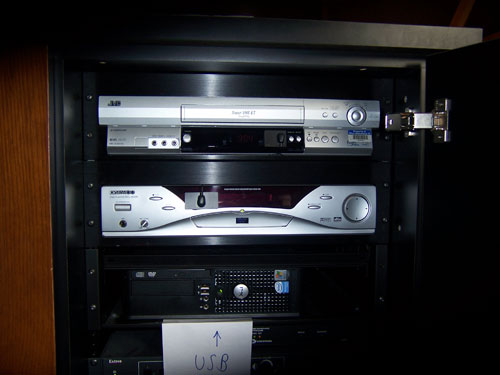 Control Box:
-press the ON button to turn on the projector
-press the OFF button to turn off the projector
-if you are using the Windows computer located in the room, press the PC button
-if you plan on hooking up your laptop, press the LAP button
-if you wish to use the Blu-ray/DVD or VCR, press the DVD or VCR button respectively
-to adjust the volume, press the up and down volume control buttons
-to silence the sound, press the Mute button
-if you wish to use a flash drive, please connect it to the computer and NOT the control box. The box does not support flash 2.0 drives.
Image 3 - The Control Box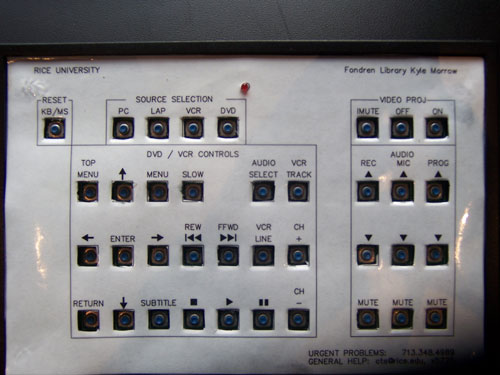 Image 4 - USB Device Disclaimer
Locations:
-the Windows computer is located in the brown cabinet on the left side of the room as you enter.
-the buttons to raise and lower the shades and screen are located next to the front left window along the wall behind the podium.
Image 5 - Projection Screen Controls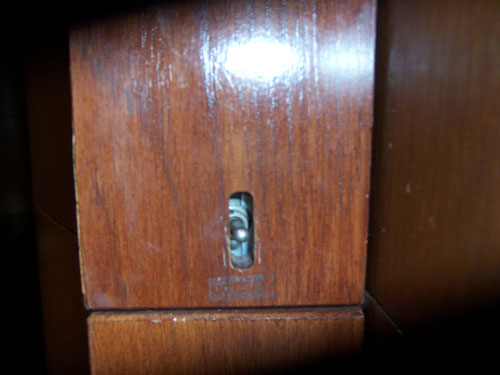 Image 6 - Window Shade Controls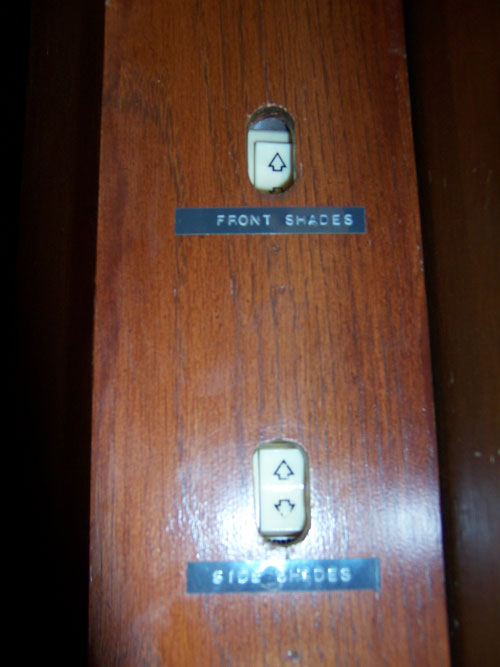 Please be aware that Fondren Library provides minimal support for the computer or a/v equipment in this room. If you wish to have assistance with setup for your presentation, you need to make arrangements at least 1 week in advance of your presentation by emailing dgalvin@rice.edu. Less than one week's notice, assistance will be on an 'as available' basis. Assistance is only available Monday - Friday, 9:00 am - 5:00 pm. We highly recommend that you arrive 30 minutes prior to the start of your presentation to test the setup and make sure everything is working properly.