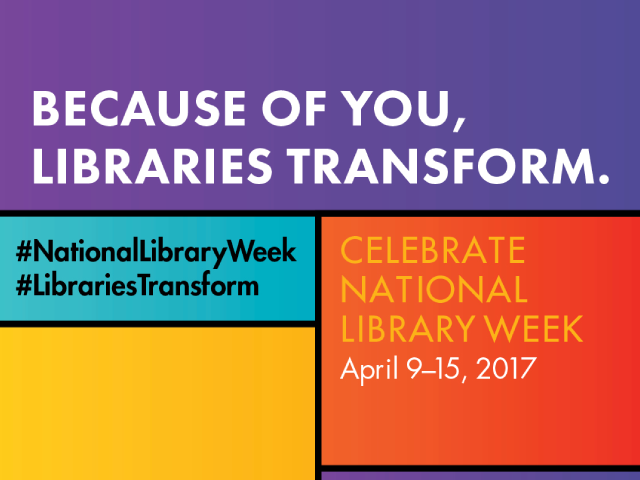 About National Library Week
First sponsored in 1958, National Library Week is a national observance sponsored by the American Library Association (ALA) and libraries across the country each April. It is a time to celebrate the contributions of our nation's libraries and librarians and to promote library use and support. All types of libraries - school, public, academic and special - participate.
Libraries Transform will return as the theme for National Library Week 2017, reminding all Americans that today's libraries are not just about what they have for people, but what they do for and with people. Increasingly, libraries are places of creativity where people can meet to share a hobby, use a 3D printer, edit a video, or use software to record their own music. Libraries offer access to the tools, technology and training essential to the economic and cultural lives of their communities.
Soccer great Julie Foudy to serve as National Library Week Honorary Chair
Julie Foudy is a retired professional soccer player, two-time World Cup champion, and a medalist in the 1996, 2000, and 2004 Olympics. She was inducted into the U.S. National Soccer Hall of Fame in 2007. She is currently a reporter and analyst for ABC/ESPN, contributor and writer for espnW, and motivational speaker.
Foudy is the director and founder of the Julie Foudy Sports Leadership Academy, a unique residential camp experience that uses sports as a vehicle to teach leadership skills for life. She also founded the Julie Foudy Leadership Foundation, which has a mission of building on a foundation of sports and fitness to empower young women from all socioeconomic backgrounds to become leaders who positively impact their communities.
Foudy also will add author to her credits with the release of her first book, "Choose to Matter," to be published by Disney Publishing Worldwide in the spring of 2017.
Learn more about ALA's Libraries Transform public awareness campaign.
Ways to Celebrate National Library Week
1. Visit your library.
Head to your public, school or academic library during National Library Week to see what's new and take part in the celebration. Libraries across the country are participating.
2. Show your support for libraries on social media.
Help spread the word about National Library Week by sharing these images on your blog or social media channel. Follow I Love Libraries on Facebook and Twitter and the hashtags #NationalLibraryWeek and #LibrariesTransformto join the celebration on social media.
Facebook Share Blue-Yellow | Facebook share in Spanish | Facebook Share Purple-Yellow
Twitter Share Blue-Yellow | Twitter share in Spanish | Twitter Share Purple-Yellow
Instagram Share Blue-Yellow | Instagram share in Spanish | Instagram Share Purple-Yellow
Facebook Cover Blue-Yellow | Facebook cover in Spanish | Facebook Cover Purple-Yellow
Twitter Cover Blue-Yellow | Twitter cover in Spanish | Twitter Cover Purple-Yellow
160 x 600 | 160 x 600 in Spanish
728 x 90 | 728 x 90 in Spanish
300 x 250 | 300 x 250 in Spanish
Add our Libraries Transform Twibbon to your Facebook or Twitter profile picture.
3. Expert in the Library Promotion
What is your librarian an expert in—storytime, medieval history, recommending books—or are they an expert in making you smile? Let the world know that you appreciate your "expert in the library" during National Library Week 2017.
Your response can be text, a photo or a video posted Twitter, Instagram, or posted directly to the I Love Libraries Facebook page.
Use the printable props we've provided or be original. Creativity is encouraged. Just be sure to include the hashtag #expertinthelibraryand post between Saturday, April 8 at noon CT and Saturday, April 15 at noon CT for a chance to win the $100 Visa gift card.* Extra points if you tag your library in the post.
My librarian is an expert in Print (PDF) | High resolution PNG
Librarians are experts in Print (PDF) | High resolution PNG
I'm an expert in Print (PDF) | High resolution PNG
4. Thursday, April 13 is Take Action for Libraries Day
At the federal level libraries are facing some special challenges this year, so we'll be asking for your help on Thursday of National Library Week. Stay tuned.