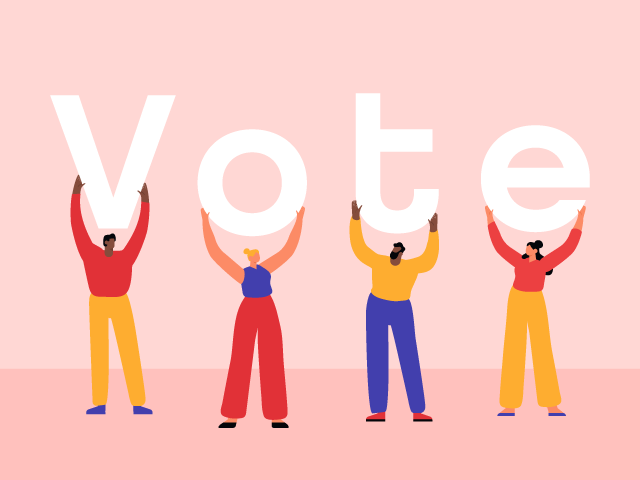 Are you registered to vote at your current address?
The TX registration deadline is October 5, 2020, whether you want to vote by mail, vote early from October 13-30, or vote on Election Day, November 3, 2020.
Stop by to get registered to vote by VDVR-certified Rice volunteers or ask any questions you might have about voting.

If you would like to register in Harris County (Houston), be sure to have your Texas Drivers License number, Texas Identification number, OR the last four digits of your social security number ready to fill out your application.

These are physically distanced events with a limit of four people (including volunteers) at the event tables. In general, volunteers will follow Rice University and National Voter Registration Day guidelines for fall 2020 in-person events.
Dates & Times
National Voter Registration Day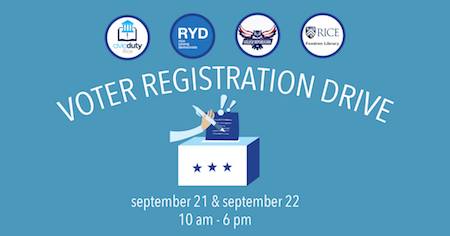 Sep 21, 10 am-6 pm
Sep 22 rescheduled due to TD Beta
Stay tuned for the new event information!
Facebook event | VDVR volunteer signup
Location
Inside Fondren Library, first floor (due to Tropical Storm Beta)
Last week before the deadline
Sep 28, 2-4 pm
Sep 29, 2-4 pm
Sep 30, 2-4 pm
Oct 1, 2-4 pm
Oct 2, 2-4 pm
Oct 5, 2-4 pm
Are you a VDVR certified member of the Rice community interested in volunteering?:
VDVR volunteer signup | Email Fondren VDVRs | Fondren Voting Event Guide - volunteers, please read the guide before arrival
Can't make it? TurboVote gets you ready to vote wherever you are.
TurboVote is an online voter platform that helps you start the voter registration process, request a ballot by mail, and sign up for email and text reminders for upcoming election deadlines, all in less than five minutes.
Through a partnership with the Rice University Center for Civic Leadership, the Rice community can opt to receive voter registration forms and ballot request applications through TurboVote in pre-paid, pre-addressed envelopes. Sign up today!
Voting Information
Campus Events
Getting registered to vote is just one of many steps to being an engaged and informed citizen. Here are a few campus events to learn more about participating in our democracy, voting rights, and the history of voter suppression in the United States. Almost all of them are held online this semester.
Exhibits
These campus exhibits are a great way to creatively engage with the ideas of democracy, the Constitution, and voting rights in the United States.