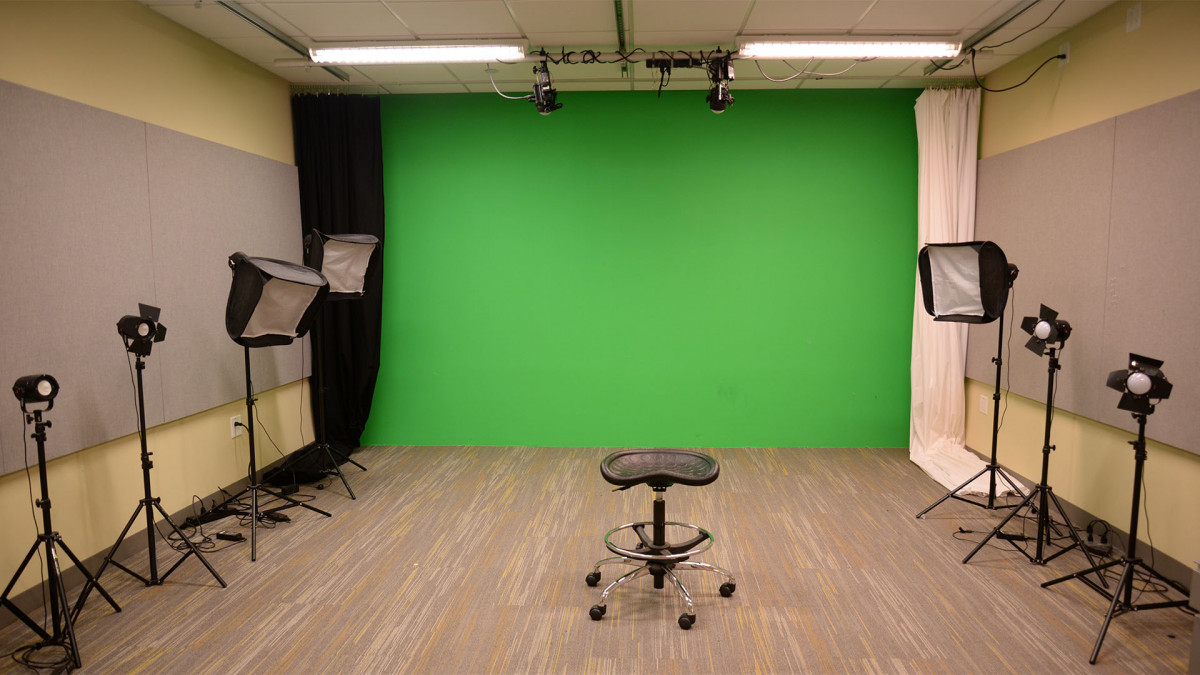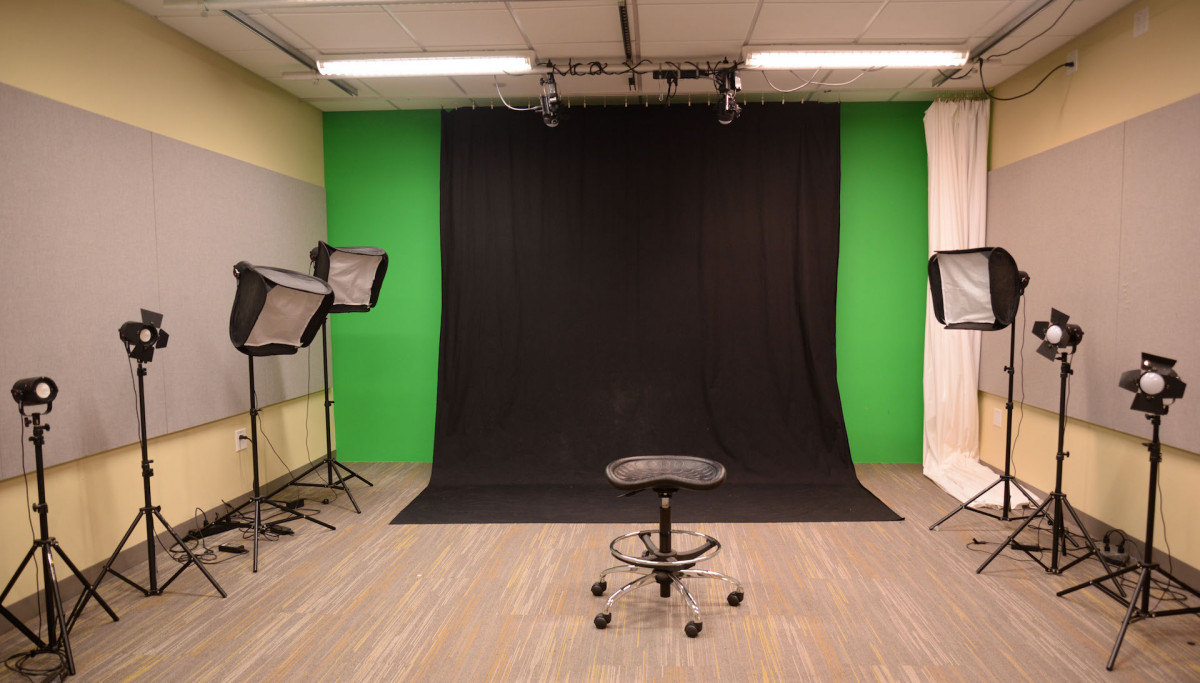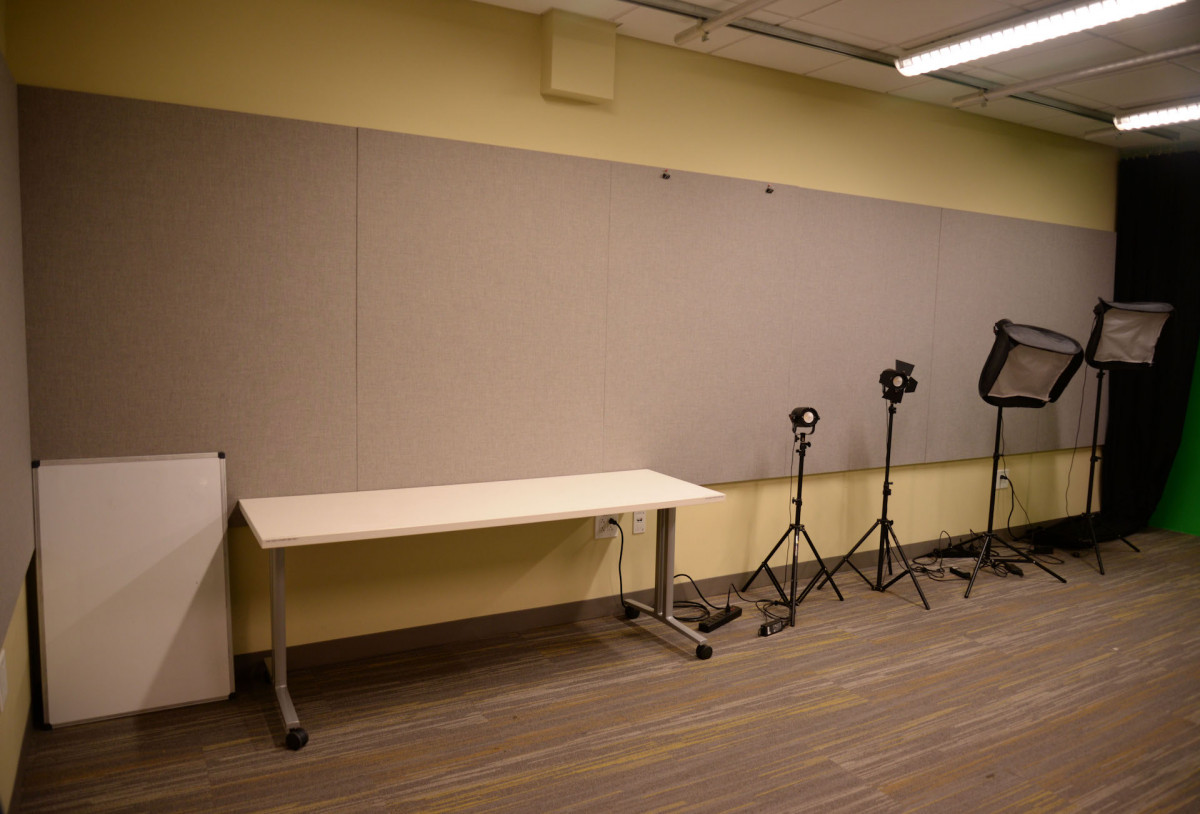 The dimension of the room is 22'x16', the room is 9' high.
Equipment in the studio:
Lights

2 ceiling mounted LED lights and 7 LED lights on stands.

Variable Color Temperature: 3,000-5,600K
Ceiling mounted lights: Use the control console to adjust the brightness and color temperature.
Stand lights: Adjust the brightness and color temperature on the back of the light.
1 DMX Control Consoles

Green screen
Backdrops
Accessories

2 3-Pin Male to Female XLR Audio Extension Cable
1 stool
Whiteboard on casters
Equipment reserved for the studio for 4 hour in-house checkout:
Video

1 Sony HXR-NX5U NXCAM Professional Camcorder
Note: This camera includes a Sony ECM-XM1 condenser shotgun mic that requires 48Volts phantom power.

Audio

1 Sony ECM-44B omnidirectional Lavalier mic
2 Sennheiser Camera Mount Wireless Microphone Systems with ME2 Lavalier Mic
1 Sennheiser MKE-600 Shotgun Microphone

Photography

1 Nikon D610 DSLR Camera
1 Nikon AF-S 24-85mm f/3.5-4.5G ED VR
1 Nikon AF-S 50mm f/1.8G
1 Nikon AF-S 85mm f/1.8G

Light

1 Bescor LED-500K 2 Light Studio Lighting Kit (i.e. 2- LED-500 LED Lights, 2- Light Stands (6.0'), 6,500K Color Temperature)

Accessories

1 Manfrotto MVH502A Fluid Head and 546B Tripod System with Carrying Bag
1 Manfrotto 131D Side Arm 2016
DMC Video/Photography Online Sign-In.
General Policies and Procedures
Only Rice students, faculty, and staff may reserve and use the rooms.
The Rooms are available for booking during the DMC open hours.
Reservations are up to 4 hours and can be made a month in advance.
Patrons are welcome to use the room with their own equipment. Alternatively, patrons may also check out equipment from the DMC. For a full list of equipment that can be checked out to be used in the studio, refer to the Details section on this page. All equipment are 4 hours in house use only through regular check out from the DMC service desk. A valid Rice ID is required to check out the equipment.
Check reservation status at http://dmc-reservations.rice.edu/Web/view-schedule.php?sid=5
To reserve the studio, fill out the online reservation form.
Reservations will be processed within one business day.
Unclaimed reservations will be released after 15 minutes.
Can be used for:
conducting video interviews
taking portrait photos
skid performances
creative uses
Click on DMC Gallery to see how people used DMC Video/Photography Studio.
Studio Guides: https://wiki.rice.edu/confluence/pages/viewpage.action?pageId=19728347