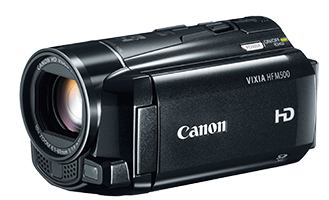 HD Recording up to 1080p60 (1920x1080 "progressive scan" at 60 frames per second)
32x Optical Zoom
2MP Digital Still Capture
SD or SDHC Flash Memory
TIL + Instant AF focusing system
Dynamic Image Stabilization, Face Detection, and Smart Auto
Microphone and Headphone Terminal
2.37-megapixel HD CMOS Image Sensor
3" Touchscreen LCD
Records footage to SD memory card (16GB SD Included)

Recording time is 1 hr 30 min in MXP mode (i.e. 1920x1080 at 24Mbps.)
Recording time is 2 hr 5 min in FXP mode (i.e. 1920x1080 with 17 Mbps.)
Recording time is 4 hr 45 min in SP mode (i.e. 1440x1080 with 7 Mbps.)
Recording time is 4 hr in MP4 mode: 1280 x 720 (9Mbps)

MP4 files will be limited to 60 minutes. When the recording is over 60 minutes, the file will be broken up. (60 minutes video is about 1.8GB. )
A fully charged battery pack will allow max.1hr. 15min. in FXP mode. (2 battery packs provided)
Using Canon Vixia R700/R800 for Basic Recording
Tips and Tricks:
For music recording, use Canon R700 in auto and FXP mode for video, use Zoom H4n audio recorder to record audio separately and simultaneously.
For interview recording, Canon R700 in auto mode, internal mic or Rode shotgun mic work well.
Click on DMC Gallery to see how people used DMC Equipment.
Online Manual: https://gdlp01.c-wss.com/gds/0/0300025910/03/vixiahfr80-82-800-im3-en.pdf
Available For Checkout to Rice ID Holders at DMC