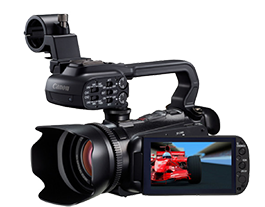 HD Recording up to 1080i60 (1920x1080 "interlaced" at 60 frames per second)
10x Optical Zoom
24mbps AVCHD Recording
64gb Internal Memory
2 - 16gb SD Cards
3.5" Touch Panel LCD Screen
Dual XLR Inputs with Detachable Handle
5hr 55min recording time at 24mbps (64gb internal)
3hr 30min extended battery life
1hr stock battery life
Online Manual: https://gdlp01.c-wss.com/gds/3/0300027913/03/xa11-15-im3-n-en.pdf
The following items are included in the bag:
Canon XA11 video camera
Power adapter and batteries

CA-570 compact power adapter
BP-808 battery & BP-819 battery

32 GB memory card (2)
External mic
USB cable
HDMI cable
headphone
Carrying bag
Click on DMC Gallery to see how people used DMC Equipment.
Microphone Set-Up:
Select (FUNC.) -> (MENU) -> Choose the left-most tab -> (XLR Rec Channel)
If recording with only one microphone, select CH1/2. Make sure your microphone is plugged into Channel 1.
If recording with two microphones, select CH1. The two audio inputs can monitored independently, but will produce a single inseparable audio track once recorded.
Basic Operation of the Camera

Audio Settings of the Camera
Available For Checkout to Rice ID Holders at DMC