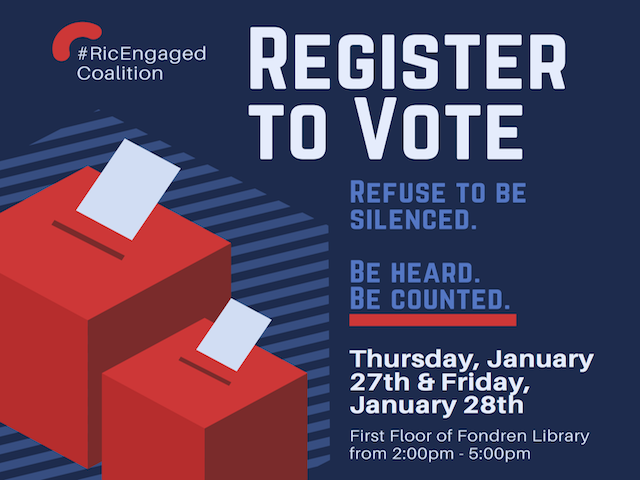 New election laws passed in 2021 will make it harder for many young people, people with disabilities, and people of color to register and vote.
Laws like Texas Senate Bill 1 (SB1):
Ban Drive-Thru Voting/ 24-Hour Voting
Limit Early Voting Hours
Cut Local Options for Casting Ballots and
Restrict the distribution of vote-by-mail applications
These voting initiatives are primarily used in diverse communities, consisting of young voters and voters of color.
The #RicEngaged Coalition is making sure you have all of the resources necessary to vote in the 2022 primary elections (March 1st).
Important Information:
The Texas deadline to register to vote in the 2022 midterm primary elections is January 31, 2022;
New Texas voter laws restrict voting by mail. For students living away from home, especially those who typically vote by mail using another Texas address, it is safest and easiest to register and vote at your college residence address this year.
There are two upcoming opportunities to register to vote or update/change your voter registration for Harris County hosted by the #RICEngaged coalition members Fondren
Library, Civic Duty Rice, CCL.
Meet us outside of Fondren Library on January 27 & 28 from 2-5 pm and be counted in the list of Rice Owls who vote in primaries.