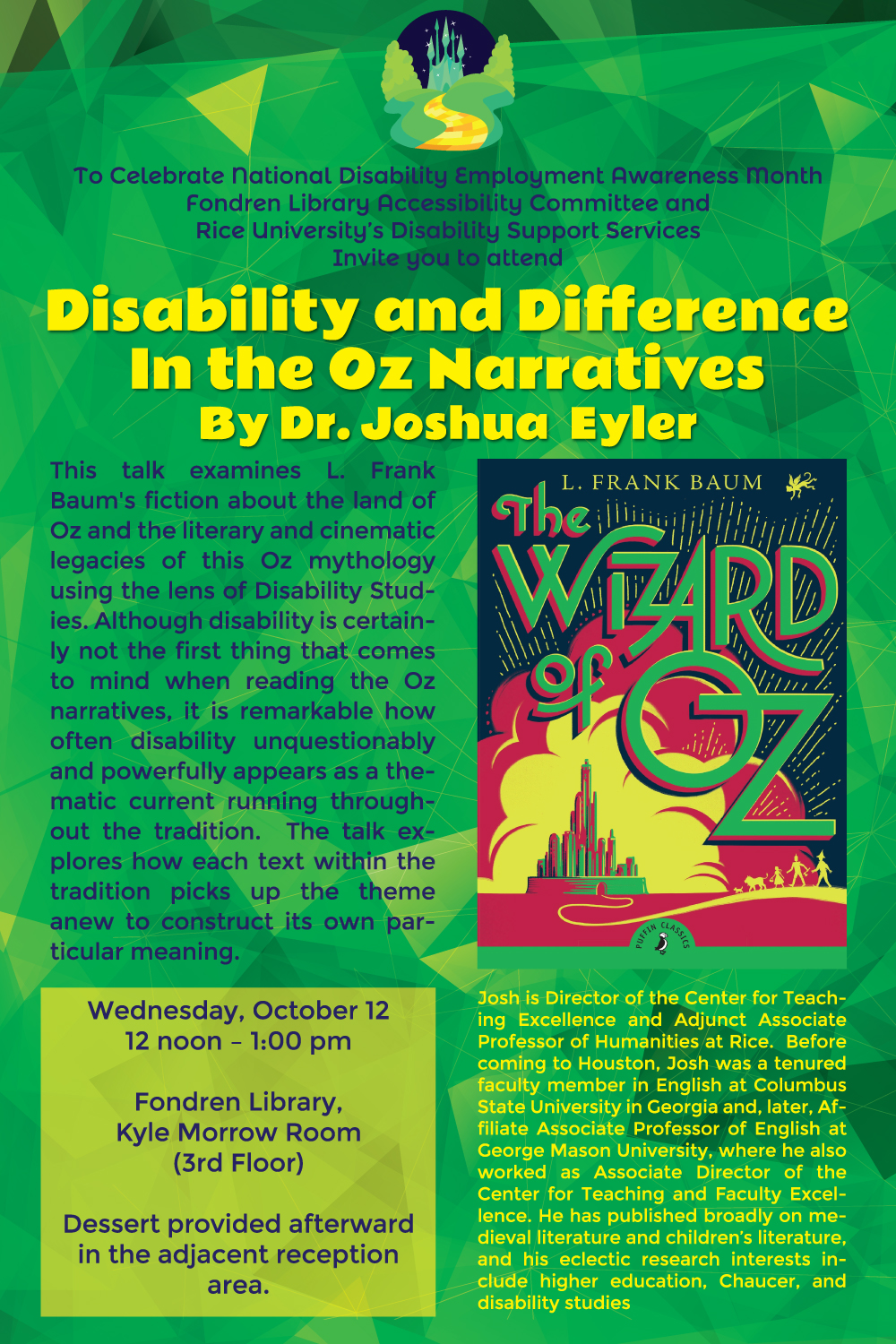 To Celebrate National Disability Employment Awareness Month
Fondren Library Accessibility Committee and Rice University's Disability Support Services
Invite you to attend:
Disability and Difference in the Oz Narratives
This talk examines L. Frank Baum's fiction about the land of Oz and the literary and cinematic legacies of this Oz mythology using the lens of Disability Studies. Although disability is certainly not the first thing that comes to mind when reading the Oz narratives, it is remarkable how often disability unquestionably and powerfully appears as a thematic current running throughout the tradition. The talk explores how each text within the tradition picks up the theme anew to construct its own particular meaning.
By Dr. Joshua Eyler
Josh is Director of the Center for Teaching Excellence and Adjunct Associate Professor of Humanities at Rice. Before coming to Houston, Josh was a tenured faculty member in English at Columbus State University in Georgia and, later, Affiliate Associate Professor of English at George Mason University, where he also worked as Associate Director of the Center for Teaching and Faculty Excellence. He has published broadly on medieval literature and children's literature, and his eclectic research interests include higher education, Chaucer, and disability studies.
Date and Time:
Wednesday, October 12, 2016 -

12:00pm

to

1:00pm
Location:
Kyle Morrow Room, Fondren Library 3rd Floor
Eligibility:
Public
Friends of Fondren Members
Rice Faculty
Rice Staff
Rice Students
Contact Information:
Linda Spiro
lindas@rice.edu