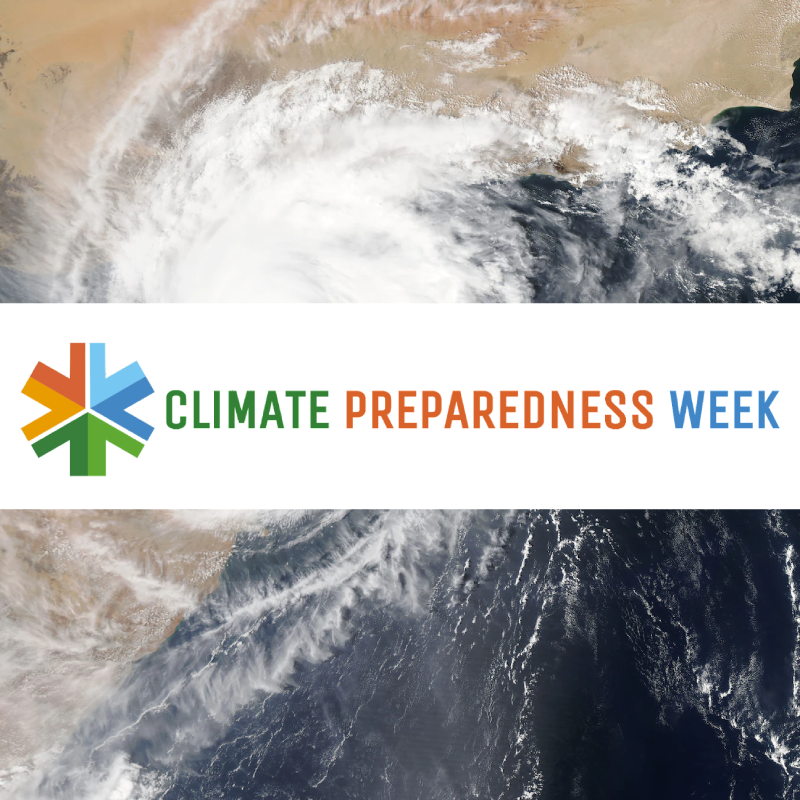 Here is a list of virtual events for Climate Preparedness Week 2023 (Sept. 24-30)!
Monday 9/25
BOOK DISCUSSION WITH AUTHOR CHUCK COLLINS: ALTAR TO AN ERUPTING SUN
Monday 9/25, 6:00pm - 7:00pm CST
Speaker: Chuck Collins
Join us for our monthly virtual book discussion group! Author Chuck Collins will join us to discuss his debut novel Altar to an Erupting Sun. Partially set in Jamaica Plain, it's a near-future story of one community facing climate disruption in the critical decade ahead.
Chuck Collins is a campaigner and storyteller who has worked for decades on environmental and economic justice campaigns. He is the Director of the Program on Inequality and the Common Good at the Institute for Policy Studies where he co-edits Inequality.org.
Register At: https://bpl.bibliocommons.com/events/64e7b5de53479b37006b4809 
EXTREME FLOODING AND A VT LIBRARY'S RESPONSE
Monday 9/25, 6:00pm - 7:00pm CST
Host: Manchester-by-the-Sea Public Library
On July 10, 2023 Montpelier Vermont and many other cities and towns across the state were overwhelmed by a catastrophic rain storm and the Kellogg-Hubbard Library, in the center of Montpelier was not spared. Library Director Carolyn Picazio and Executive Director Dan Groberg will discuss the flooding that day, the challenges the library and community now face, how the library has remained flexible in offering services to its community and what communities can do to stay resilient in the face of future storms. 
Register At:  https://manchesterpl.assabetinteractive.com/calendar/crew-week-extreme-flooding-and-a-vermont-librarys-response/ 
WHAT'S NOAA ALL ABOUT?
Tuesday 9/26, 4:30pm - 5:30pm CST
Host: Charlotte Library
Ever wonder what it's like to be a weather forecaster? Join the weather-curious for a presentation by the National Weather Service of Burlington, Vermont, to learn about what these meteorologists do every day to keep you safe. A family program for kids, parents and anyone interested in weather!
Register Here: https://bit.ly/44aAJr4   
SFF BOOK CLUB: PARABLE OF THE SOWER
Tuesday 9/26, 5:00pm - 6:00pm CST
Host: Clapp Memorial Library
A monthly book group for lovers of high fantasy, hard science fiction, fable, far future, and all of the speculative fiction options that meet virtually. Our September pick is Parable of the Sower by Octavia Butler for its themes of Climate Change & Social Justice.
Register Here: Contact tmannino@cwmars.org 
CRWA- FLOOD MODEL DISCUSSION
Tuesday 9/26, 6:00pm - 7:15pm CST
Host: Charles River Watershed Association/CREW
Join Communities Responding to Extreme Weather (CREW) and Charles River Watershed Association (CRWA) to explore how communities, families, and individuals are responding to flooding impacts. Learn about efforts to address flooding regionally and on a grassroots-level -- through the Charles River Flood Model, community depavings, and more! Share your own creative ideas, what you do at home and beyond, to keep yourselves and your neighbors safe and to help the earth become more resilient in the face of climate change. 
You'll hear from CRWA's Senior Climate Resilience Associate Dira Johanif, CREW's Project Coordinator Leigh Meunier, and friends from across the region. Do you plant trees and gardens? Own a rain barrel? Hold community dinners? It's all supportive! Come share your insights and strengthen the community response to flooding!
Register Here: https://www.climatecrew.org/cpw_2023 
SOCIAL JUSTICE BOOK CLUB DISCUSSION: THE GREAT DISPLACEMENT: CLIMATE CHANGE AND THE NEXT GREAT AMERICAN MIGRATION BY JAKE BITTLE
Tuesday 9/26, 6:00pm - 7:00pm CST
Host: Robbins Library
This month's Social Justice Book Group will discuss the issue of climate change with the selection, The Great Displacement: Climate Change and the Next Great American Migration by Jake Bittle. The main topic will be climate migration.
Register Here: https://www.robbinslibrary.org/event/social-justice-book-club-the-great-displacement/ 
Wednesday 9/27
SUSTAINABLE LIVING LIBRARY PROGRAMS 
Wednesday 9/27, 5:30pm - 6:30pm CST
Host: Brewster Ladies Library
Join Tory Stephens of Grist Magazine, an independent non-profit media organization focused on the climate crisis, and learn how he created Imagine 2200: Climate Fiction for Future Ancestors. Imagine is a storytelling initiative that calls for fiction writers to envision the next 180 years of equitable climate progress, imagining intersectional worlds of abundance, adaptation, reform, and hope.
Register at: https://brewsterladieslibrary.assabetinteractive.com/calendar/virtual-climate-fiction-with-tory-stephens/  
AUTHOR TALK: DR. SAMANTHA MONTANO - DISASTEROLOGY: DISPATCHES FROM THE FRONTLINES OF THE CLIMATE CRISIS
Wednesday 9/27, 6:00pm - 7:00pm CST
Host: Connolly Branch of the Boston Public Library
Disaster researcher, Dr. Samantha Montano discusses her 2021 book, Disasterology: Dispatches from the Frontlines of the Climate Crisis. She explains why we aren't doing enough to prevent or prepare for disasters, the critical role of the media, and how our approach to recovery was not designed to serve marginalized communities.
Register At: https://boston-public-library.zoom.us/webinar/register/WN_BifuLN6KTMaccKtcpGn8MQ#/registration 
GARDENING WATER WISDOM -- SAVE WATER, MONEY & THE ENVIRONMENT
Wednesday 9/27, 6:00pm - 7:00pm CST
Host: Tewksbury Public Library
In recognition of Climate Preparedness Week, review climate changes impact on Massachusetts relative to drought and precipitation. Understand why gardeners need to start adapting to these climate variations to preserve and protect the quantity and quality of our natural resources. Discover practical and effective ways of being "Water Smart" to reduce water consumption; improve the environment; maintain a healthy, productive garden; and save money. Led by Carol Rego, a gardening expert with the Massachusetts Master Gardeners Association, who is a professional engineer with a 40-year career in managing large and complex drinking water projects.
Register At: https://tewksburypl.assabetinteractive.com/calendar/virtual-gardening-water-wisdom-save-water-money-the-environment/ 
Thursday 9/28
HEAT, HEALTH, AND RACIAL JUSTICE
Thursday 9/28, 5:00pm - 6:00pm CST
Host: Communities Responding to Extreme Weather (CREW)
The summer of 2023 was the hottest ever recorded, increasing the risk of heat-related illnesses. While the rising number of heat waves will affect everyone to some capacity, this discussion will dive deeper into the impacts heat has on our public health and how BIPOC communities are disproportionately at risk due to the oppressive systems in our institutions and society. Join our group of esteemed panelists from numerous universities and learn how to build resilience in your community.
Speakers: 
Caleb Dresser with The Harvard School of Public Health 
Ted Landsmark with The School of Public Policy and Urban Affairs at Northeastern University
Victoria (Torrey) Spies with The Climate Justice and Sustainability Hub at Northeastern University 
Register At: https://www.climatecrew.org/cpw_2023 
Friday 9/29
HOW NASA IS COMBATING CLIMATE CHANGE
Friday 9/29, 1:00pm - 2:00pm CST
Host: Tewksbury Public Library and Topsfield Town Library
The missions of NASA's Earth Science Division help us to understand our planet's interconnected systems, from a global scale down to minute processes. The division delivers the technology, expertise, global observations, and applications that help us map the myriad connections between our planet's vital processes and the climate effects of ongoing natural and human-caused changes. Learn about the efforts of teams of NASA researchers who are currently examining Earth to understand climate change, storms, fires, and where people fit into all of it, including an active mission studying climate change in northern regions of the world (e.g., Alaska and Canada). 
Led by Dr. Elizabeth Hoy, PhD, who has been a NASA scientist for over 10 years with the NASA Carbon Cycle and Ecosystems Office and NASA Goddard Space Flight Center. Studying Arctic systems since 2005, her research interests are in geography and disturbance mapping within the high northern latitude regions of North America where she utilizes GIS and remote sensing to understand aspects of environmental change.
Register At: https://tewksburypl.assabetinteractive.com/calendar/virtual-how-nasa-is-combating-climate-change/