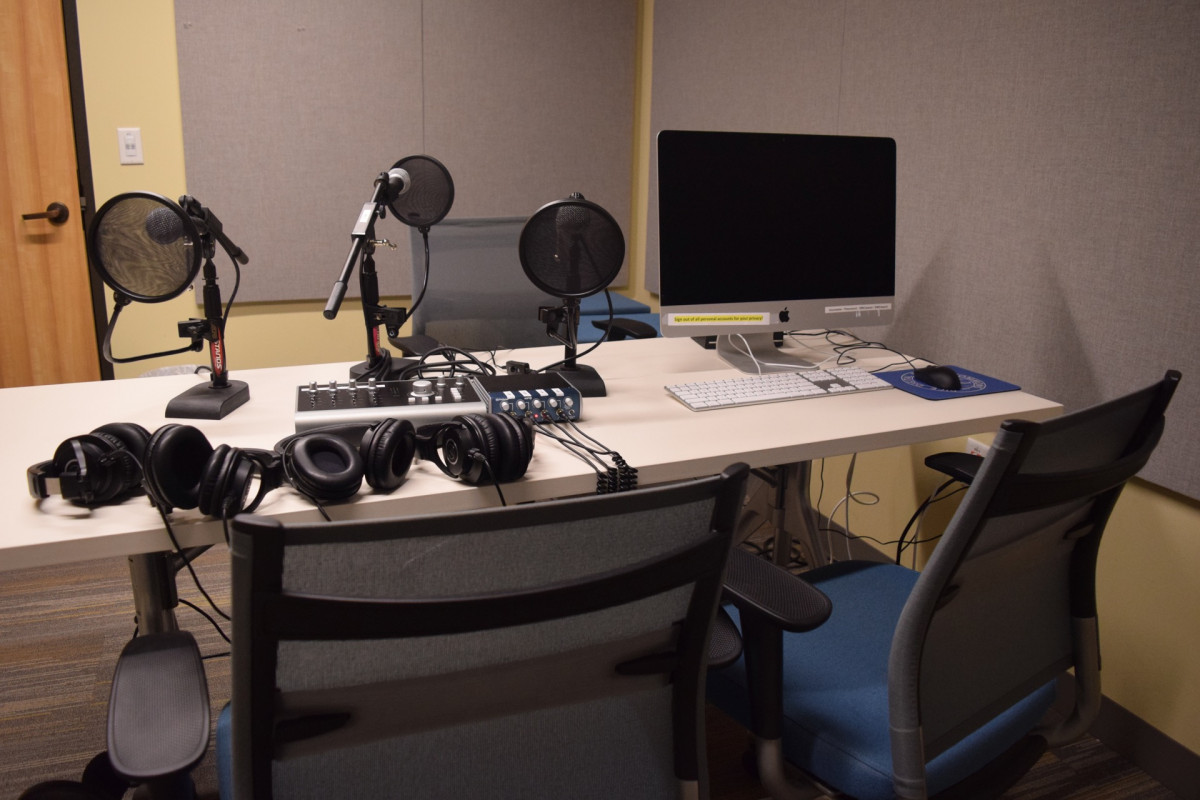 Due to the safety concerns of the shared dynamic microphones, DMC Audio Studio will be closed in fall 2020 unless for special core academic projects. Email dmc-info@rice.edu for questions and special requests.
Room Settings
Room dimension: 13'x11'
1 table
2 task chairs
1 mobile extending table (optional)
Hardware
An iMac
Audient iD44 audio interface
Shure SM58 Cardioid microphone (quantity: 4)

Auray PFSS-55 Pop Filter with Gooseneck(quanity: 4)
Ultimate Support Mic stand (quantity: 4)

PreSonus HP4 - 4-Channel Headphone Distribution Amplifier

Audio-Technica ATH-M40x Monitor Headphones (Black) (quantity: 4)

Others

A keyboard is available for checkout at the DMC.
A Zoom H4N digital audio recorder is available for checkout at the DMC, which can be used to record audio interviews with three or more people or phone interviews via Skype.
Logitech HD Pro Webcam C920, Widescreen Video Calling and Recording, 1080p Camera, Desktop or Laptop Webcam

Users can also bring in their own equipment to record.
Software
Audacity
Adobe Audition
Garage Band
Camtasia for Mac
OBS Studio (Open Broadcaster Software)
Reservations
The DMC Audio Studio can be reserved and used only by Rice faculty, students and staff.
The rooms are available for booking during the DMC open hours.
To reserve the studio, go to https://rooms.library.rice.edu/Web/?. Reservations can be made within 3 days in advance.
Reservations are up to 4 hours.
One reservation per day. A second reservation made to extend the use of the studio requires check in and check out of original key at the DMC Desk to avoid an overdue fine from the initial reservation.
Unclaimed reservations will be released after 30 minutes.
Late fees - $5/hour.
Studio Check-in and Check-out
Whether you have reserved the studio or you are a walk-in user, come to the DMC service desk to check out the key to the studio.
Ask DMC staff for help if you are in doubt when using the studio.
Tidy up the space when you are done.
Return the key to a staff at the DMC service desk.
Uses
recording voice over narrations with Audacity/Garage Band
recording audio only interviews with Audacity/Garage Band
developing video tutorials with screen capture software Camtasia
creating illustrative or animated videos with Camtasia, PaintBrush, and Wacom Intuos4 Digital pen table
authoring music scores with GarageBand
​video conferencing with Skype
other creative uses of the Recording Booth
broadcast presentation using OBS
Click on DMC Gallery to see how people used DMC Audio Studio.
Guides: https://wiki.rice.edu/confluence/display/DMCGUIDES/DMC+Audio+Studio