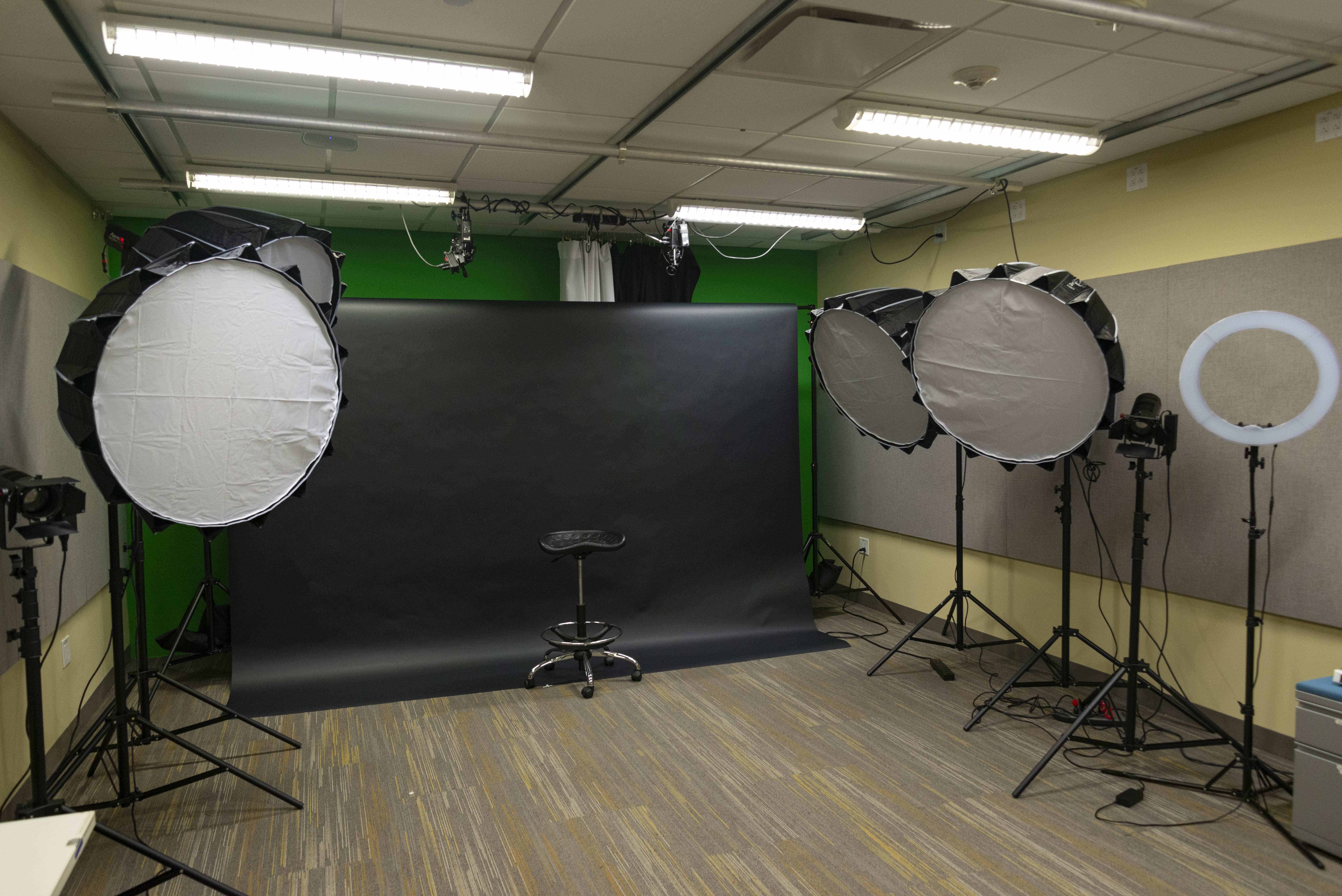 Backdrops and Backgrounds
Green painted wall for chroma keying (16'x9')

Black and white fabric backdrops (10'x12')

12' wide black and white paper backdrops
9' wide dark blue backdrop
Lighting Equipment
6 Aputure Light Storm LS 60d LED lights

Accessories: Aputure Light Dome II (34.8" diameter) circular 

soft box with optional grid, barn doors, color gel holders with 2 sets of gels

Neewer 18" LED Ring Light

Accessories: white or amber diffusion covers

2 ceiling-mounted Fiilex P360S LED Lights with controller for supplementary backdrop lighting
Other Equipment
Rolling whiteboard (3' x 4' writable surface)
Rolling table (6' x 3')
Adjustable height rolling stool
Upholstered high-backed chair
Equipment Available for In-House Use (4 hour checkout)
1 Sony HXR-NX5U NXCAM Professional Camcorder

Note: This camera includes a Sony ECM-XM1 condenser shotgun mic that requires 48Volts phantom power.

1 Manfrotto MVH502A Fluid Head and 546B Tripod System with Carrying Bag
Equipment reserved for the studio for 4 hour in-house checkout. A valid Rice ID is required to check out the equipment. 
Note:
Patrons are also welcome to use the room with their own equipment.
Use of smoke/fog machines, pyrotechnic or incendiary devices of any kind, or open flames are prohibited in the studio.
Reservations
The DMC Video Photography Studio can be reserved and used only by Rice faculty, students and staff.
The rooms are available for booking during the DMC open hours.
Reservations can be made up to 30 days in advance using the self-booking feature in Primo.
Reservations are up to 4 hours.
One reservation per day. A second reservation made to extend the use of the studio requires check in and check out of original key at the DMC Desk. 
Unclaimed reservations will be released after 30 minutes.
Studio Check-out
Whether you have reserved the studio or you are a walk-in user, come to the DMC service desk to check out the key to the studio.
Ask DMC staff for help if you are in doubt when using the studio. 
Tidy up the space when you are done.
Return the key to a staff at the DMC service desk.
Uses
conducting video interviews
taking portrait photos
skid performances
creative uses
Click on DMC Gallery to see how people used DMC Video/Photography Studio.