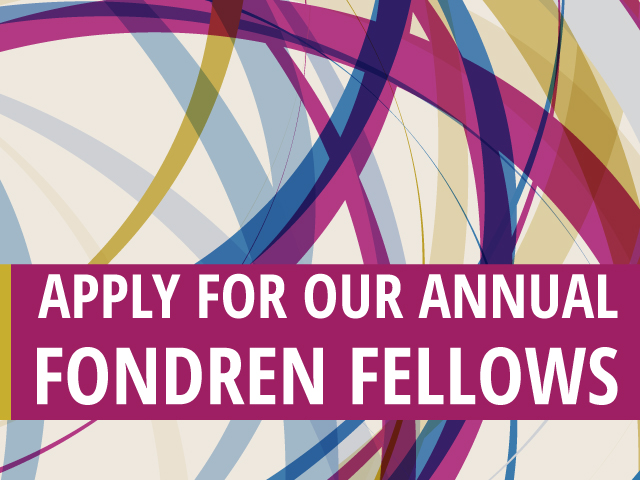 The Fondren Fellows program funds Rice undergraduate or graduate students to conduct research or teaching projects sponsored by Fondren Library that will benefit the library and the scholarly community. For example, projects may involve working with archival collections, developing digital projects, or making recommendations for library services. Rice faculty members or Fondren staff will serve as the mentors for each project.

2020-2021 Fondren Fellows

Faculty-Student Research Collaboration in Digital History: Adjusting and Expanding visualizingabolition.org: Sai Sankeerth
The Sugar Land 95: Mapping Convict Leasing in Fort Bend County, 1865- 2018: Suzanne Harms
Centennial of the Vote! 100 Years of Activism: Ev Delafose
A short history of the Leibniz Society of North America: Zach Schwarze
Translational Humanities for Public Health: Meghana Nadella
Women of Rice Omeka Exhibit:

Karen Siu

Teaching and Consulting in R: Maxwell Bender
"Who's Using It?": Open Educational Resources at Rice: Luna Cortelezzi
Media Center Film and Video Archive: Baird Campbell and Konstantin Georgiev
Fondren Eco-Rep: Ashley Fitzpatrick
>>Please see this PDF for more information about each project.
Benefits to Fellows
The Fondren Fellows program offers the following benefits to students:
Receive a competitive wage. Fellows will receive $15/ hour, with a cap of $3000 per fellowship.
Create a meaningful research or teaching project in collaboration with experts
Hone research and communication skills
Work flexible hours; most positions involve at least some remote work
Applying for a Fellowship
Applicants must be current Rice graduate or undergraduate students in good academic standing at the time of the fellowship. To apply, submit the following to lspiro@rice.edu:
a resume or CV that includes your name, email address, telephone number and expected graduation date, and the contact information for two references
a cover letter. The cover letter should specify which project(s) you would like to participate in, what qualifications you bring to the project(s), and what you would like to get out of the fellowship.
Students will interview with the prospective mentor and another member of the Fondren Fellows team.

Applications for the Fondren Fellows program will be due by noon on September 25, 2020.

Contact Lisa Spiro at lspiro@rice.edu with any questions.
Expectations
Once selected, Fondren Fellows are expected to:
submit a research plan
participate in regular meetings with their mentor(s) and, as appropriate, with other Fellows
provide reports on their progress in meeting the project goals
present their project at a public forum, such as the Rice Undergraduate Research Symposium (RURS) or a Fondren Town Hall Meeting
acknowledge the Fondren Fellows program in any publications or presentations resulting from the fellowship
complete brief self and program evaluations
Background Information
Fondren Library gratefully acknowledges the John "Terry" Maltsberger III estate for creating an endowment to support expanding the Fondren Fellows program. Please see Katharine Shilcutt's "Surprise for Fondren Library: $2 million endowment to fund experiential research," Rice News (November 5, 2018).
Between 2016 and 2019, the Fondren Fellows program was funded through the generous support of Trish Brice. It is inspired by a similar program at Vanderbilt, as well as by student research programs at Rice's Center for Civic Leadership and Rice's Humanities Research Center.
Learn more about the program by reading Jeff Falk's "Fondren Fellows Program showcases students' research prowess," Rice News (April 17, 2017).